Building a treatment plan that's right for you
 

Getting started with PALYNZIQ® (pegvaliase-pqpz) Injection
PALYNZIQ is a treatment you give yourself just under the skin (subcutaneously) while at home. PALYNZIQ comes in prefilled syringes that can be injected in a few steps.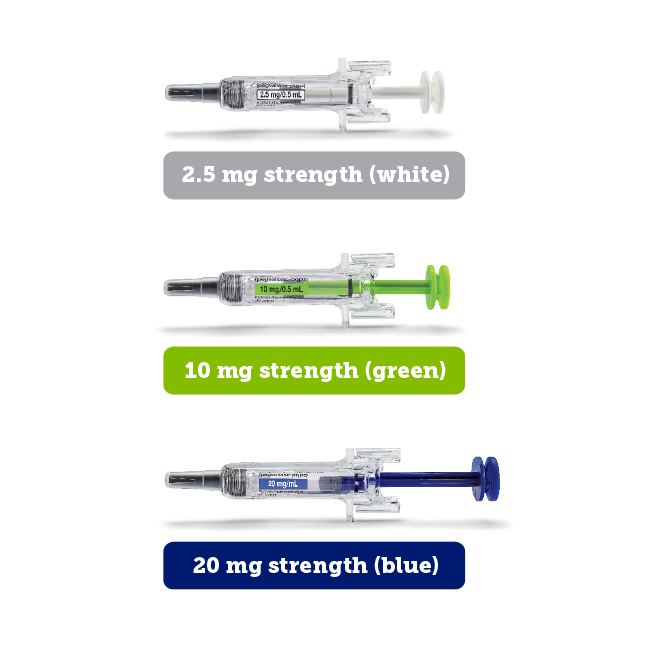 Learn more about PALYNZIQ side effects and safety

Finding a dose to meet your treatment goals
During your PALYNZIQ treatment, your healthcare provider will adjust your injection schedule to find a dose that's right for you. You will start injecting PALYNZIQ once a week, and your healthcare provider will then increase the number of injections per week based on how the therapy works for you.
This treatment plan is only an example. Always follow your healthcare provider's instructions.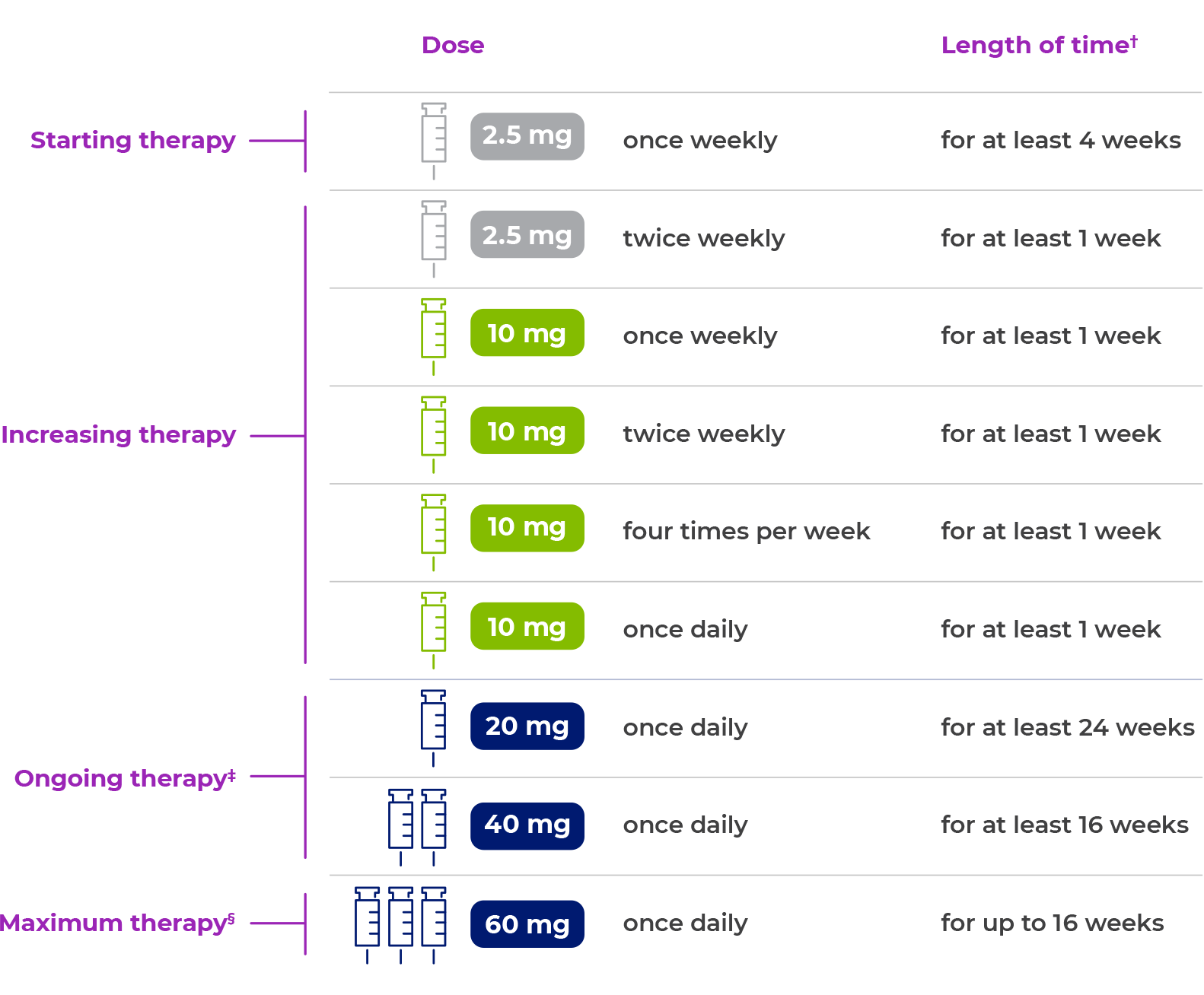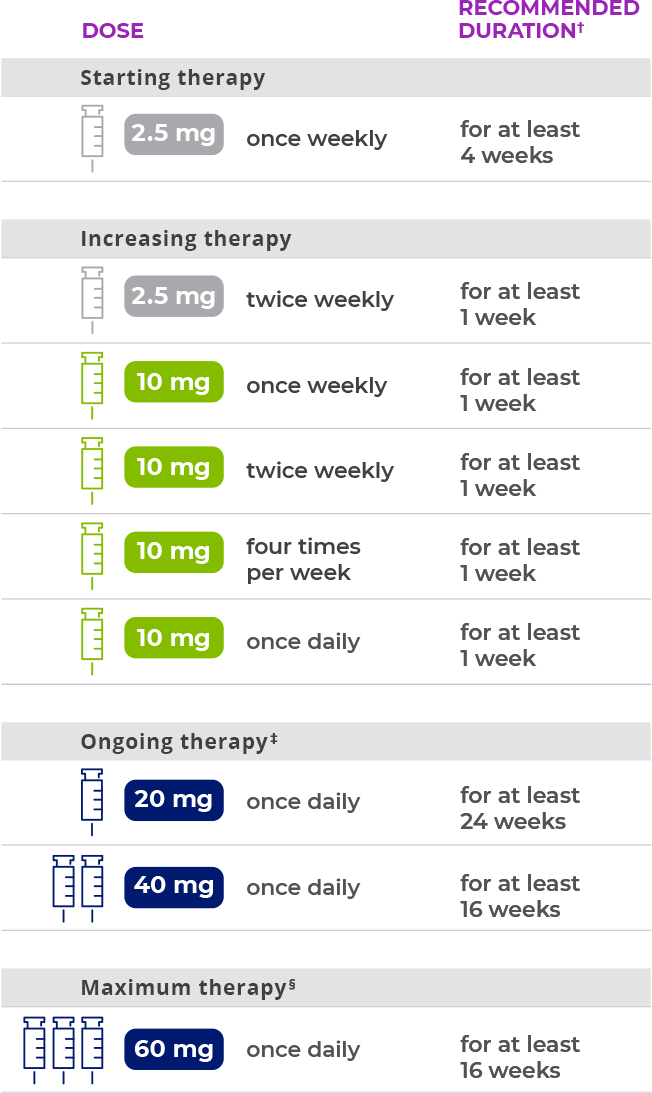 Additional time may be required between dose escalations based on patient tolerability.
Individualize treatment to the lowest effective and tolerated dosage. Consider increasing to a maximum of 40 mg subcutaneously once daily in patients who have not achieved a response after at least 24 weeks of continuous treatment with 20 mg subcutaneously once daily.
Discontinue PALYNZIQ if either a ≥20% reduction from baseline or a blood Phe concentration ≤600 micromol/L (10 mg/dL) is not achieved after at least 16 weeks of continuous treatment with 40 mg subcutaneously once daily.
View the PALYNZIQ injection video
This video demonstrates injection instructions that can be used as a guide to help you with PALYNZIQ. This information should not take the place of your healthcare provider's instructions or directions related to your medical condition or your treatment. 
Before injecting PALYNZIQ, talk to your healthcare provider right away if you cannot or will not use auto-injectable epinephrine to treat a severe allergic reaction. If you are pregnant or plan to become pregnant while taking PALYNZIQ, talk to your healthcare provider to discuss the risks and benefits of taking PALYNZIQ during pregnancy to you and your unborn baby. If you are breastfeeding or plan to breastfeed, talk to your healthcare provider to discuss the risks and benefits of taking PALYNZIQ while breastfeeding for you and your baby.

From now on, I know that my blood Phe levels can get THAT low.
Leah, taking PALYNZIQ

Most patients experienced side effects, the majority were considered mild to moderate
Most side effects occurred less often over time
Percentage of patients who experienced common side effects in clinical trials when starting (induction) and increasing (titration) their PALYNZIQ dose (N=285)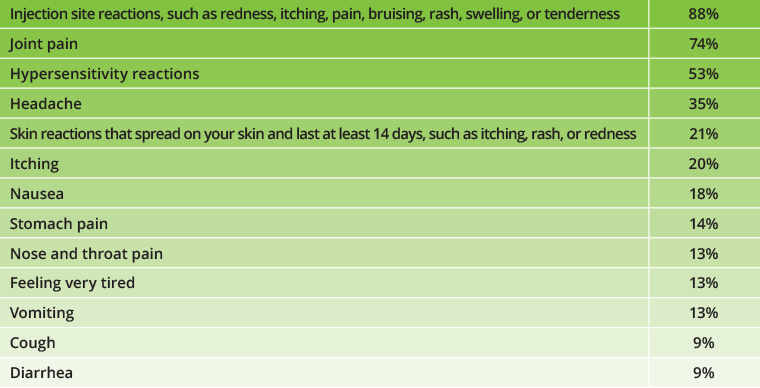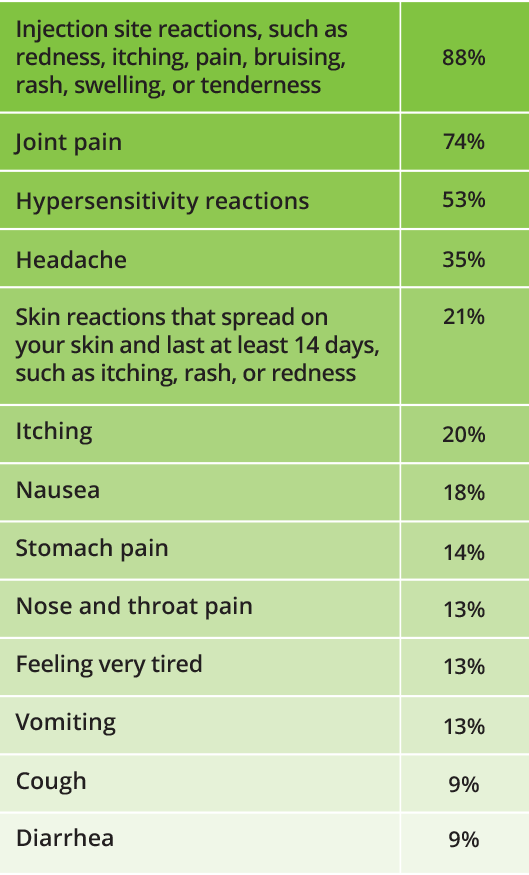 During maintenance (ongoing), common side effects were injection site reactions, such as redness, itching, pain, bruising, rash, swelling, or tenderness; joint pain; hypersensitivity reactions; headache; skin reactions that spread on your skin and last at least 14 days, such as itching, rash, or redness; itching; nausea; stomach pain; nose and throat pain; feeling very tired; vomiting; cough; and diarrhea
While nearly all patients taking PALYNZIQ experienced a side effect, many side effects can be managed.
11% of patients in clinical studies discontinued PALYNZIQ due to side effects
About joint pain
While most patients taking PALYNZIQ experienced some form of joint pain, episodes went away in 2 weeks on average. Most joint pain episodes lasted 3 days or less.
Understanding anaphylaxis

Anaphylaxis is a type of severe allergic reaction.
9% of patients (26 of 285) experienced anaphylaxis in PALYNZIQ clinical studies.
All anaphylaxis episodes ended without further health consequences for the patients
View the PALYNZIQ Medication Guide
Of the 9% of patients who experienced anaphylaxis in PALYNZIQ studies, 69% of them were able to return to treatment with PALYNZIQ under the supervision of their healthcare provider.
Of those patients who returned to treatment, the majority (72%) did not experience anaphylaxis again. 28% of these patients experienced anaphylaxis again.
It's important to be aware of the signs and symptoms of anaphylaxis:
Fainting (passing out)
Dizziness or lightheadedness
Sudden confusion
Trouble breathing or wheezing
Chest discomfort or chest tightness
Fast heart rate
Swelling of your face, lips, eyes, or tongue
Throat tightness
Flushed skin
Skin rash, itching, or raised bumps on skin
Nausea, vomiting, or diarrhea
Losing control of urine or stools
For your safety, your healthcare provider will prescribe auto-injectable epinephrine to use in case of anaphylaxis. Keep the auto-injectable epinephrine with you at all times during treatment with PALYNZIQ.
Make the most of your treatment
When you start taking PALYNZIQ, your healthcare provider will:
Show you how to properly inject PALYNZIQ
Be present as you give yourself your first injection
Confirm your ability to self-administer PALYNZIQ
Help you make PALYNZIQ part of your routine
Teach you about the signs and symptoms of anaphylaxis and what to do if you have anaphylaxis
When taking PALYNZIQ, remember to:

Track your Phe levels

Keep all your appointments and return clinic phone calls

Take all your medications as prescribed

Keep a consistent diet

Know the signs and symptoms of anaphylaxis

Carry auto-injectable epinephrine with you at all times
Report any side effects to your healthcare provider.
The PALYNZIQ Risk Evaluation and Mitigation Strategy (REMS)
You can get PALYNZIQ only through the PALYNZIQ REMS program. The purpose of this is to ensure that you have been fully informed of the risk of anaphylaxis associated with taking PALYNZIQ, and that you understand this risk before you start treatment. Your healthcare provider can tell you more about the PALYNZIQ REMS and help you enroll.
Your journey with PALYNZIQ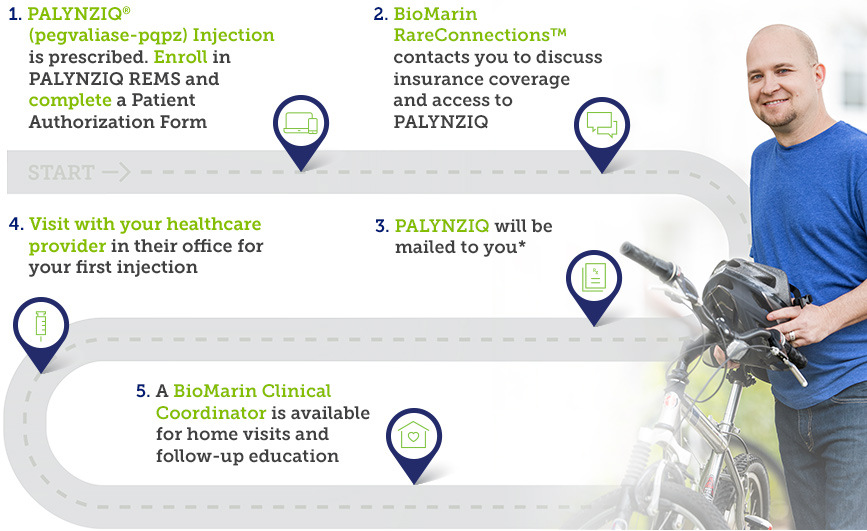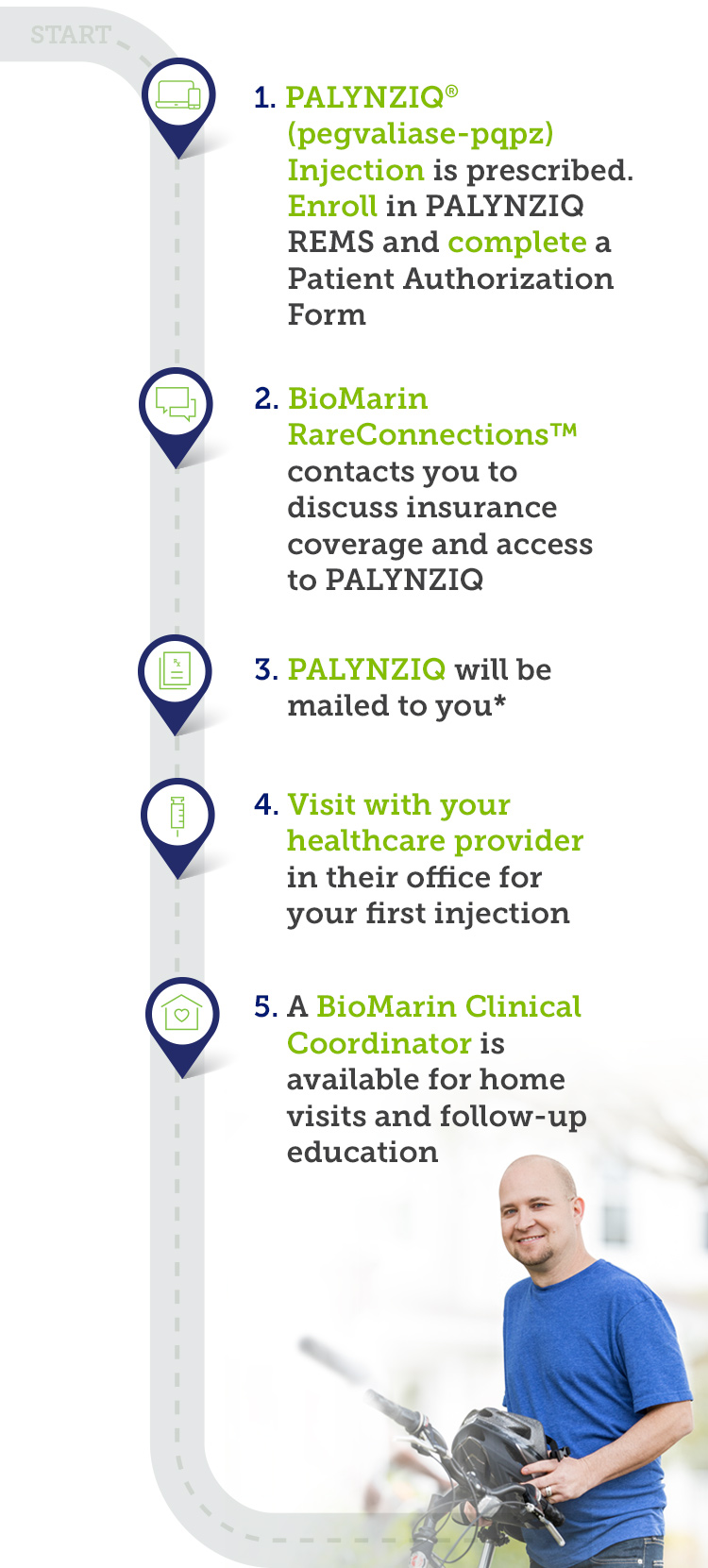 A specialty pharmacy will confirm that you have auto-injectable epinephrine on-hand before mailing your PALYNZIQ prescription.

Learn more about PALYNZIQ
Provide your contact information to receive important news and updates about PALYNZIQ.
Sign up now

Financial assistance may be available
BioMarin RareConnections™ can help with understanding insurance coverage and more.
See how we can help