Over time in the PALYNZIQ® (pegvaliase-pqpz) Injection clinical trial, more patients achieved a blood Phe level less than or equal to

6 mg/dL

(through 2 years).
With PALYNZIQ…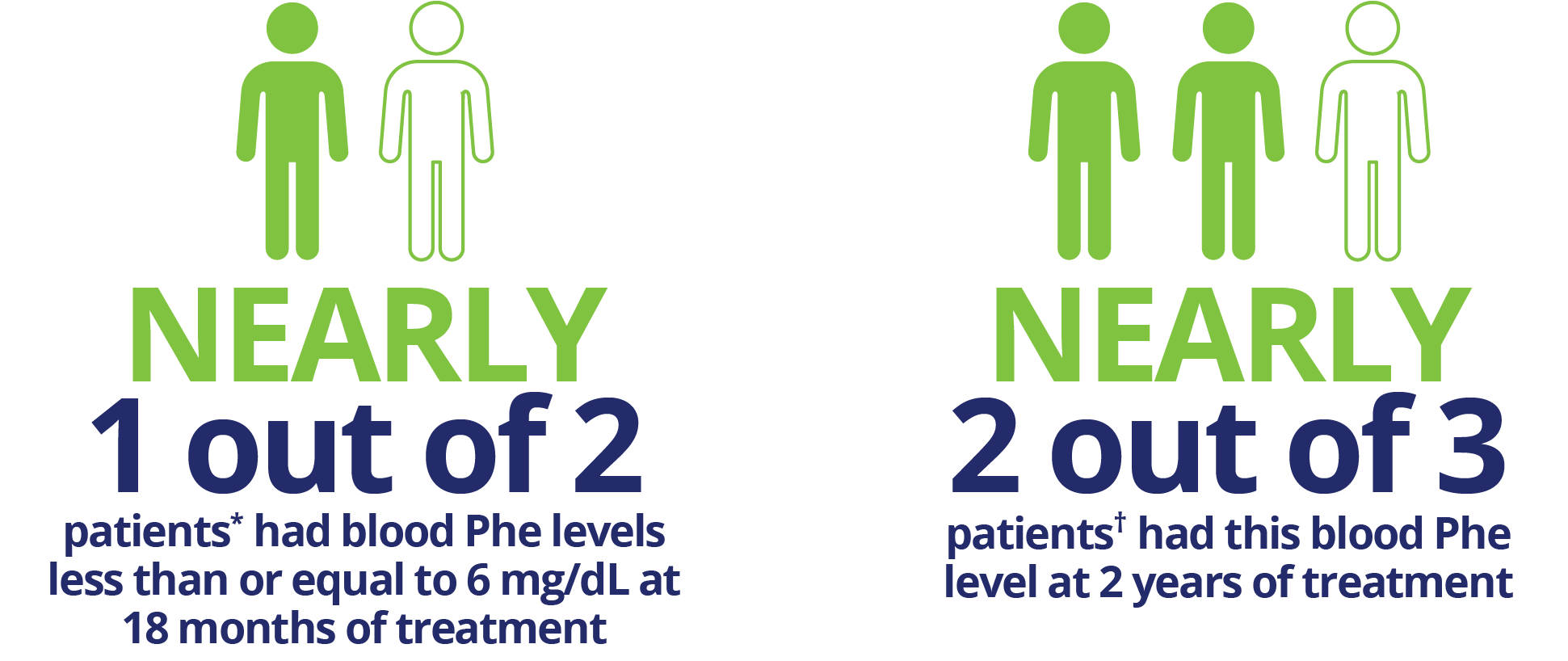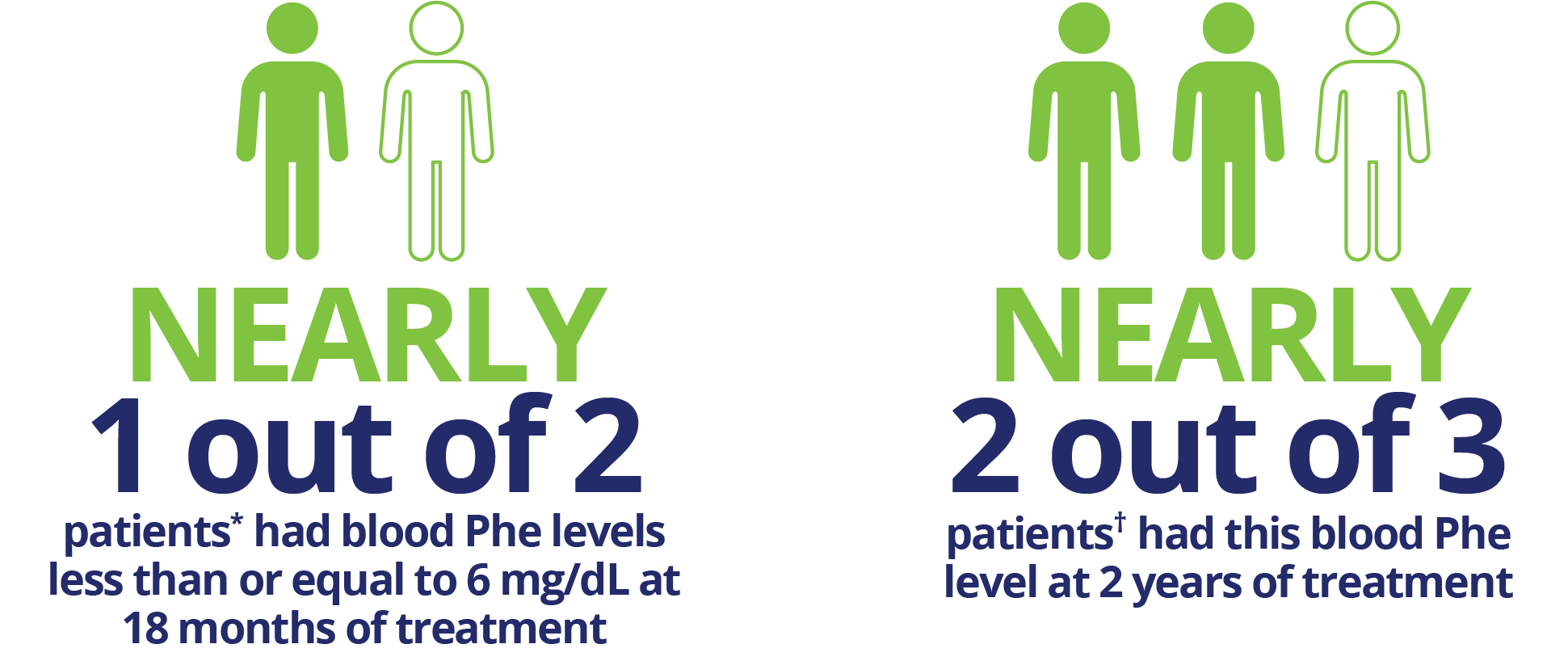 46 of 93 patients who stayed in the clinical trial.
57 of 86 patients who stayed in the clinical trial.
261 patients enrolled in the phase 3 clinical trial and 54 (21%) discontinued treatment during the first part of the study. As the study progressed, additional patients discontinued. Discontinuations occurred for a number of reasons, including adverse events, withdrawal by participant, physician decision, lost to follow-up, other, protocol deviation, and pregnancy.
In the second half of the clinical trial, 86 patients who saw 20% reductions in blood Phe levels entered an 8-week randomized withdrawal period. During this period, 58 patients continued on PALYNZIQ, while 28 patients received a matching placebo. On average, the patients who stayed on PALYNZIQ saw continued blood Phe reductions (down to 9 mg/dL), while the patients who received a placebo saw a significant rise in blood Phe (up to 25 mg/dL).
PKU expert guidelines recommend that people with PKU maintain blood Phe levels between 2–6 mg/dL throughout their entire lives.
It can take time to find the dose that's right for you—it may take longer than 8 months.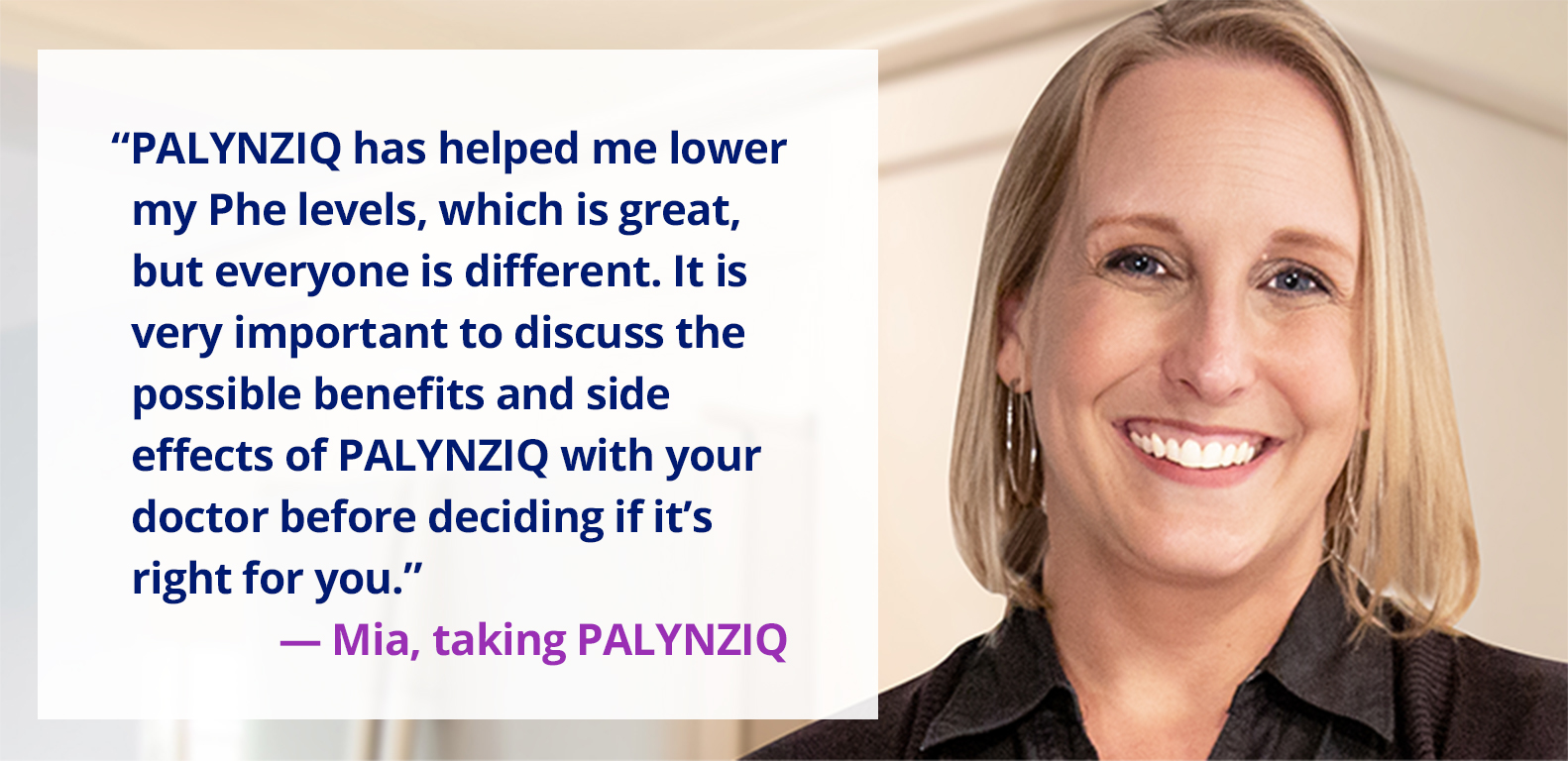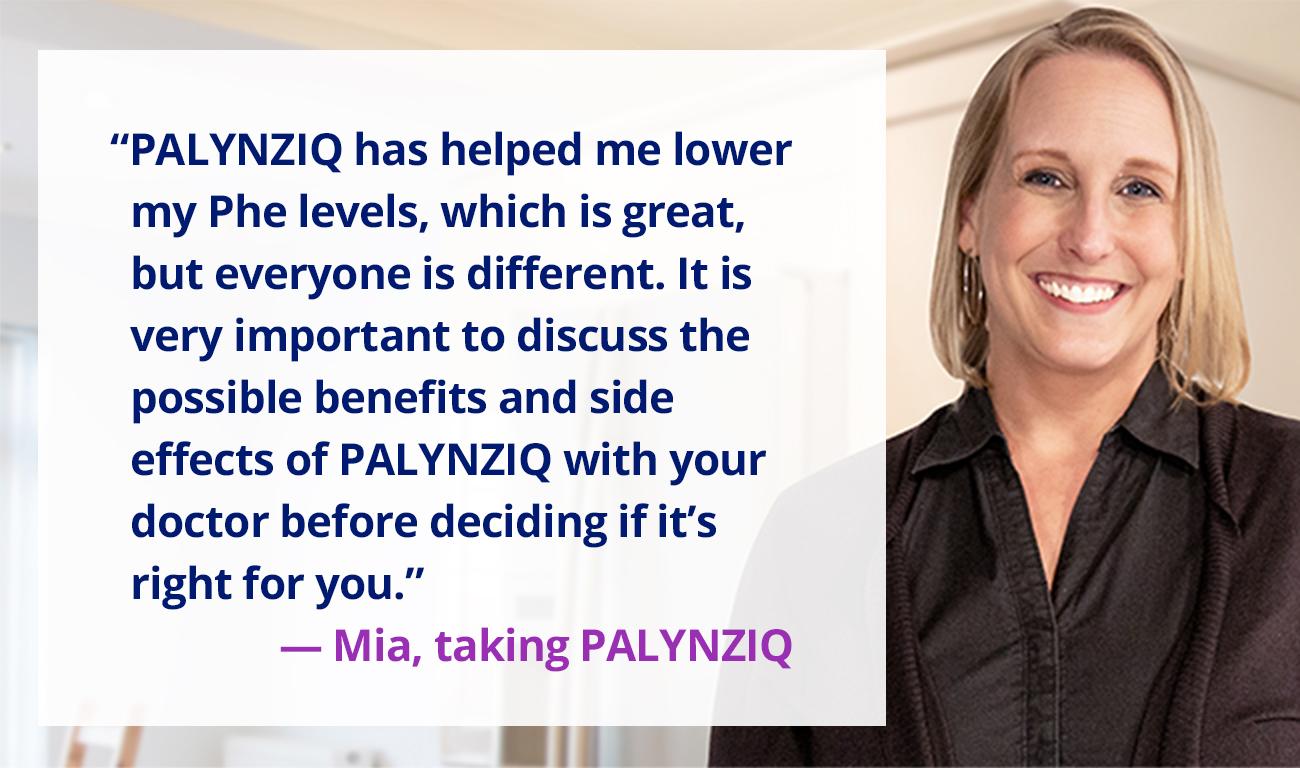 Your clinic team will monitor your blood Phe levels and suggest any changes to your dose or diet to help you reach your goals.
The majority of patients in the study (89/118) achieved at least one blood Phe level at or below 6 mg/dL.
Blood Phe levels varied over time and reaching a level less than or equal to 6 mg/dL does not mean that the patients stayed at or below that level. This chart shows how long it took them to achieve this Phe level in the study period.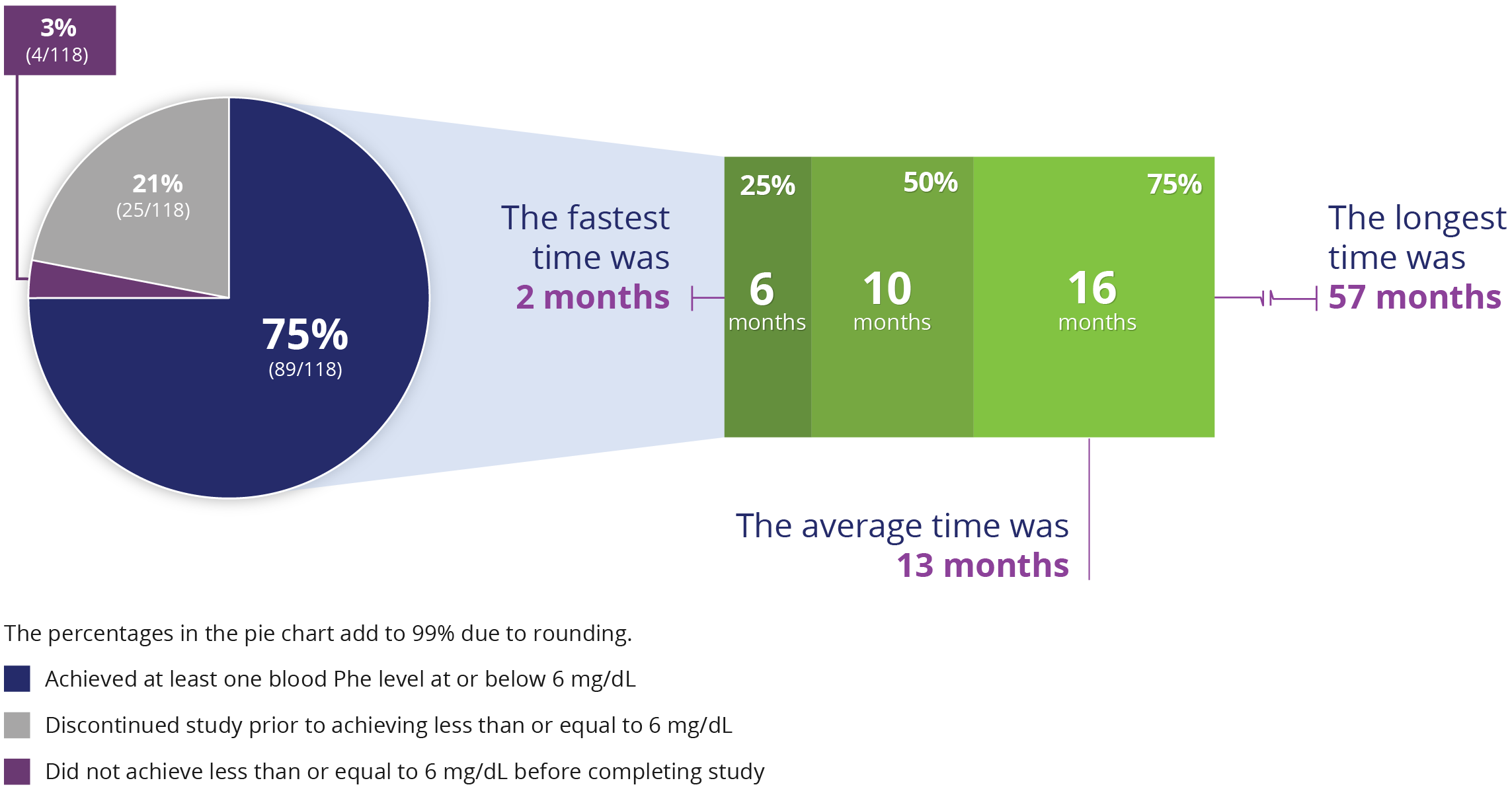 Diet or no diet, you can start PALYNZIQ. In clinical trials, PALYNZIQ has been shown to work in eligible adults with all types of PKU, regardless of prior management.
When you start PALYNZIQ, you'll stick with your current diet. As your blood Phe is measured over time, your clinic team will advise you about possible changes to your diet.


A Phe-restricted diet was defined in clinical trials as >75% of protein intake from medical food.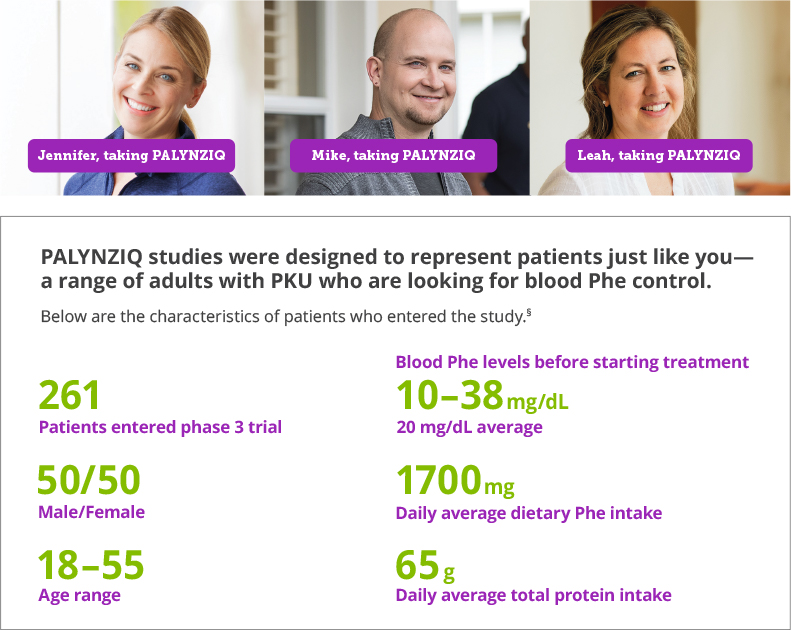 In a randomized withdrawal period, patients|| were randomized to either continue their maintenance PALYNZIQ dosage or to receive matching placebo for a total of 8 weeks. PALYNZIQ-treated patients maintained their lowered blood Phe levels, whereas patients given the placebo returned to their pretreatment baselines.
ITT, intent-to-treat; these are patient baseline characteristics in the phase 3 program. The majority of patients were on an unrestricted diet prior to and during the study.
Determined by whether a patient achieved at least a 20% reduction in blood phenylalanine level from pretreatment baseline.